This standing fan possesses an array of amazing features- remote control with On/Off, speed and timer switches, two batteries offering 4-5 hours of use and adjustable height and oscillation for the best outcome. The batteries can be recharged within 12-15 hours and are protected from overcharge or over discharge. The charging and operating indicator allow for great convenience. The 18-inch blades can be kept at 9 different speeds and built-in LED night light allows you to use the appliance with ease even in the dark.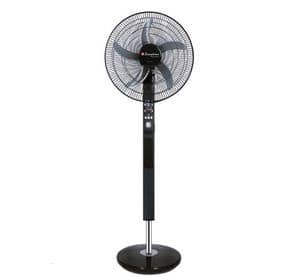 RCF-1810
Binatone offers the new 18" multi-functional AC/DC fan that comes with 9-speed options, remote control and rechargeable batteries allow you to enjoy a refreshing breeze in comfort.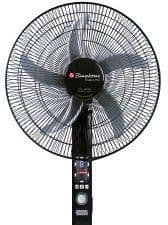 Specifications:
9-Speed 18″ standing fan
Charging and operating indicator
Adjustable height and oscillation
Built-in LED night light
12-15 hours charge time
Remote control operation (On/Off, High/Low, LED, Timer)
Over-charge and over- discharge protection
AC/DC function
One hour timer
Includes 2 pieces 6V 5Ah battery
Binatone is committed to providing you with innovative, affordable and well-designed products that add value to your life.
Enjoy convenient online shopping and nationwide delivery on RitePriceNG, at the best prices in Nigeria.